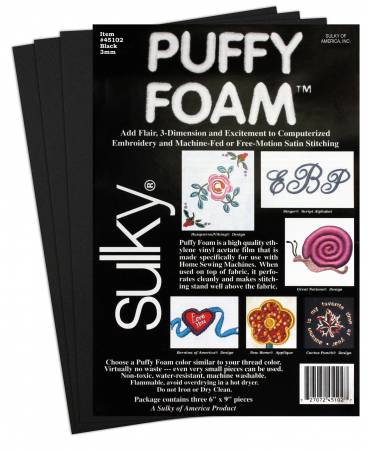 INTERFACING
Foam Puffy Black 2mm 6in x9in





DESCRIPTION
Black Puffy Foam, a high quality Ethylene Vinyl Acetate Foam that is made specifically for use on home sewing machines. It is non-toxic, water-resistant and machine washable, but it is flammable and cannot be dry-cleaned. There is virtually no waste because even very small pieces can be used. 3, 2mm 6in x 9in Sheets per package.

It perforates cleanly when stitched through, and makes the stitching stand well above the fabric. Puffy Foam works best on designs that feature a satin stitch edge or underlay techniques that will perforate the foam prior to stitching the top layer. Not all machines and/or design cards are appropriate for both weights of Puffy Foam. Do a test sample before applying to finished project.


Made in USA



Finding Suggested Products.
Please wait.